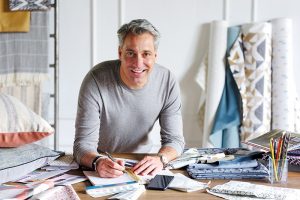 Tuesday, October 27, 2020
7:30 p.m.
---
Filicia started his career at renowned design firms Parish-Hadley, Robert Metzger and Bilhuber & Associates. He launched his acclaimed enterprise Thom Filicia Inc. in 1998 and emerged as one of today's most influential and respected interior and product designers. His projects range from residential and hospitality to commercial interiors all over the world.
His design portfolio includes such projects as the VIP Suite for the USA Pavilion at the World's Fair in Aichi, Japan; an eco-friendly apartment for Riverhouse, Manhattan's first premium (LEED certified) "green" luxury condominium tower; and the Delta Sky Decks at John F. Kennedy International Airport in New York and Hartsfield-Jackson Atlanta International Airport.
Filicia has been praised as a top designer and international tastemaker. He gained widespread fame for his role as the interior design expert on the Emmy Award-winning "Queer Eye for the Straight Guy," as well as for his television work for Style Network, HGTV and most recently Bravo's "Get a Room with Carson & Thom."
He is also the driving force behind the Thom Filicia Home Collection, which includes furniture, artwork, bedding, textiles and wallcovering, and has a flagship showroom, called Sedgwick & Brattle, at The New York Design Center.
Filicia is the best-selling author of "Thom Filicia Style" (Atria/Simon & Schuster, 2008) and "American Beauty: Renovating and Decorating a Beloved Retreat" (Clarkson Potter Publishers, 2012).
In 2011, he was named one of Elle Decor's top 25 A-List Designers. In 2006, he was chosen as one of House Beautiful's Top 100 American Designers and House & Garden's Top 50 "Tastemakers."
Filicia's appearance is co-sponsored by the College of Visual and Performing Arts and is part of Syracuse University's LGBTQ History Month.
Series events typically take place on campus, but – following public health guidance due to the COVID-19 pandemic – this fall's lectures will all be virtual, viewable via Zoom. And audience members will be able to submit questions for consideration as part of the experience, time permitting. Connection information will be provided closer to each event.