---
Annie Griffiths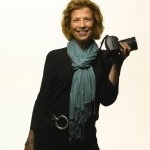 March 2015
From Photojournalist to Photo Activist: The Ripple Effects Images Project
One of the first women photographers to work for National Geographic, Annie Griffiths has photographed on six of the world's seven continents during her illustrious career.
She has worked on dozens of magazine and book projects for the Society, including stories on Lawrence of Arabia, Baja California, Galilee, Petra, Sydney, New Zealand and Jerusalem.
In addition to her magazine work, Griffiths is deeply committed to photographing for aid organizations around the world. She is the executive director of Ripple Effect Images, a collective of photographers who document the programs that are empowering women and girls in the developing world, especially as they deal with the devastating effects of climate change.
Griffiths' work has also appeared in LIFE, Geo, Smithsonian, Fortune, Merian, Stern, and many other publications. With author Barbara Kingsolver, she produced "Last Stand: America's Virgin Lands," a book celebrating the last pristine wilderness in North America. Proceeds from the book have raised more than a quarter of a million dollars for grassroots land conservation. In 2008, Griffiths published "A Camera, Two Kids and a Camel," a photo memoir about balance and the joy of creating a meaningful life. In 2010, she published "Simply Beautiful Photographs," which was named the top photo/art book of the year by Amazon and by Barnes and Noble. Griffiths has received awards from the National Press Photographers Association, the Associated Press, the National Organization of Women, The University of Minnesota and the White House News Photographers Association.
---
Laurel J. Richie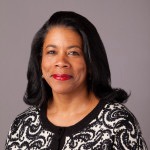 March 2015
The WNBA: Showing the World What's Possible
Laurel Richie has more than three decades of experience in consumer marketing, corporate branding, public relations and corporate management, with a long track record of developing award-winning campaigns that transform brands and drive business results. As president of the Women's National Basketball Association (WNBA), she is responsible for setting the vision for the WNBA and overseeing all of the league's day-to-day business and basketball operations. During her three years at the helm, Boost Mobile signed on as league's first marquee partner, ESPN extended their broadcast partnership through 2022, and the league reached a new collective bargaining agreement with the players and their union.
Prior to joining the WNBA in 2011, Richie was senior vice president and chief marketing officer for Girl Scouts of the USA, where she was responsible for the brand, communications, publishing, marketing and Web-based initiatives. She also spent more than 20 years at the advertising agency Ogilvy & Mather, where she worked on a series of campaigns for prominent clients. In addition, she has mentored young women and girls as part of Big Brothers Big Sisters, the 4A's Multicultural Advertising Intern Program, Xavier University's Youth Motivation Task Force, and the Advertising Educational Foundation. Richie is a recipient of the Black Girls Rock Shot Caller Award, the YMCA's Black Achiever's Award. She is a recipient of Ebony magazine's Outstanding Women in Marketing and Communications and named to their Power 100 List. Most recently, Black Enterprise named her one of the Most Influential African Americans in Sports.
---
Andreas Weigend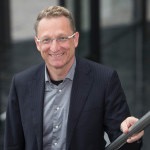 March 3, 2015
We Are Our Data: Harnessing the Power of Social Data
An expert on the future of big data, social-mobile technologies and consumer behavior, Andreas Weigend will share insights on the untapped power of data and its irreversible impact on individuals, businesses and society. As Amazon's chief scientist, he helped create the firm's data strategy and customer-centric culture. He is the founder of the Social Data Lab, which connects faculty and students with companies looking to find new forms of engagement with their customers.
Weigend also advises innovative startups and regularly consults for large corporations including Alibaba, GE, Lufthansa and MasterCard on how to leverage the Social Data Revolution.
He teaches at Stanford University, the University of California at Berkeley and China's CKGSB. He received his Ph.D. in physics from Stanford after studying in Germany and at Cambridge in the United Kingdom.
---
Barry Scheck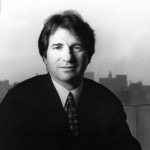 November 2014
The Innocence Project: DNA and the Wrongly Convicted
Attorney, DNA expert and co-founder of The Innocence Project, Barry Scheck is known for years of landmark litigation that set the standards for using DNA evidence in courts throughout the country. He has spearheaded a nationwide movement to re-examine the fairness and efficacy of our criminal justice system. The Innocence Project started in 1992, a national litigation and public policy organization dedicated to reforming the criminal justice system to prevent injustice. Scheck and the organization have used DNA evidence to exonerate almost 300 wrongfully imprisoned people, many of whom were on death row or had been incarcerated for decades.
In "Actual Innocence: Five Days to Execution and Other Dispatches from the Wrongly Convicted," Scheck exposed the mishandled evidence and coercive interrogations that plague the legal process. Publisher's Weekly called the book "an alarming wake-up call." In October 2010, Scheck and The Innocence Project were featured in the feature film "Conviction."
A DNA expert with the O.J. Simpson defense team, Scheck has represented notable clients including Hedda Nussbaum, Louise Woodward and Abner Louima. A commissioner for the New York State Forensic Science Review Board and Professor at the Cardozo School of Law at Yeshiva University, Scheck is considered to be on the of 100 most influential lawyers in America.
---
Carrie Mae Weems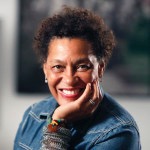 October 2014
Swinging into Sixty: A Woman Ponders the Future
Over the past 25 years, Carrie Mae Weems has worked toward developing a complex body of art that has at various times employed photographs, text, fabric, audio, digital images, installation and video. She has investigated family relationships, gender roles, the histories of racism, sexism, class and various political systems. "Despite the variety of my explorations, throughout it all it has been my contention that my responsibility as an artist is to work, to sing for my supper, to make art, beautiful and powerful, that adds and reveals; to beautify the mess of a messy world, to heal the sick and feed the helpless; to shout bravely from the roof-tops and storm barricaded doors and voice the specifics of our historic moment," she says.
Storytelling is fundamental to Weems' work. Her works include "Family Pictures and Stories," "Ain't Jokin,'" "Colored People" and the "Kitchen Table" series. Throughout the 1990s, she explored the African diaspora through the "Sea Islands," "Africa," "Slave Coast" and "Landed in Africa" and "From Here I Saw What Happened and I Cried." In 1997, Weems began a trilogy of large-scale fabric installations that resulted in "Ritual & Revolution," "The Jefferson Suite" and "The Hampton Project." Other works include "The Louisiana Project" and "Coming Up for Air" (2004).
Weems has won numerous awards for her work, and her talents have been recognized by numerous colleges with fellowships, artist-in-residence and visiting professor positions. She was awarded a MacArthur Foundation Fellowship in 2013. "Carrie Mae Weems: Three Decades of Photography and Video," a 30-year retrospective of her work, opened in January 2014 at the Solomon R. Guggenheim Museum in New York City.
---
Eve Ensler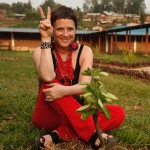 October 2014
Eve Ensler's work "The Vagina Monologues" has been translated into over 48 languages, performed in over 140 countries, including sold-out runs at both Off-Broadway's Westside Theater and on London's West End (2002 Olivier Award nomination, Best Entertainment), and has run for 10 years in Mexico City and Paris. Her experience performing "The Vagina Monologues" inspired her to create V-Day, a global activist movement to stop violence against women and girls which raises funds and awareness through benefit productions and other artistic works. To date, the V-Day movement has raised over $90 million and educated millions. Ensler has devoted her life to stopping violence, envisioning a planet in which women and girls will be free to thrive, rather than merely survive. V-Day's newest campaign, ONE BILLION RISING launched in February 2012, and has been active on the Syracuse University campus through the student group Students Advocating Sexual Safety and Empowerment (SASSE).
Ensler travelled to Eastern Democratic Republic of Congo in 2007 to meet with and learn from women survivors of violence. It was these women who birthed the idea of the City of Joy, a place to live in community so that they could heal. V-Day opened the City of Joy with a high-profile ceremony in February 2011 and the first class of women began in June 2011.
---
Van Jones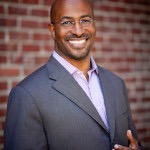 September 2014
Recently named a co-host to CNN's Crossfire reboot, Van Jones is president and co-founder of Rebuild the Dream, a platform for bottom-up, people-powered innovations to help fix the U.S. economy. A Yale-educated attorney, Jones has written two New York Times Best Sellers: "The Green Collar Economy," the definitive book on green jobs, and "Rebuild the Dream," a roadmap for progressives in 2012 and beyond. In 2009, Jones worked as the green jobs advisor to the Obama White House. There, he helped run the inter-agency process that oversaw $80 billion in green energy recovery spending.
Jones is the founder of Green For All, a national organization working to get green jobs to disadvantaged communities. He was the main advocate for the Green Jobs Act, signed into law by President George W. Bush in 2007, the first piece of federal legislation to codify the term "green jobs." Under the Obama administration, the Green Jobs Act has resulted in $500 million for green job training nationally. Jones had also worked in social justice for nearly two decades and is the co-founder of two social justice organizations—the Ella Baker Center for Human Rights and Color of Change.