---
Thom Filicia '93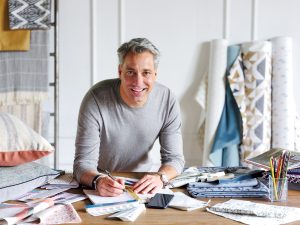 October, 2020
Virtual Zoom Lecture
Filicia started his career at renowned design firms Parish-Hadley, Robert Metzger and Bilhuber & Associates. He launched his acclaimed enterprise Thom Filicia Inc. in 1998 and emerged as one of today's most influential and respected interior and product designers. His projects range from residential and hospitality to commercial interiors all over the world.

His design portfolio includes such projects as the VIP Suite for the USA Pavilion at the World's Fair in Aichi, Japan; an eco-friendly apartment for Riverhouse, Manhattan's first premium (LEED certified) "green" luxury condominium tower; and the Delta Sky Decks at John F. Kennedy International Airport in New York and Hartsfield-Jackson Atlanta International Airport.

Filicia has been praised as a top designer and international tastemaker. He gained widespread fame for his role as the interior design expert on the Emmy Award-winning "Queer Eye for the Straight Guy," as well as for his television work for Style Network, HGTV and most recently Bravo's "Get a Room with Carson & Thom."

He is also the driving force behind the Thom Filicia Home Collection, which includes furniture, artwork, bedding, textiles and wallcovering, and has a flagship showroom, called Sedgwick & Brattle, at The New York Design Center.
Filicia is the best-selling author of "Thom Filicia Style" (Atria/Simon & Schuster, 2008) and "American Beauty: Renovating and Decorating a Beloved Retreat" (Clarkson Potter Publishers, 2012).
---
Nikole Hannah-Jones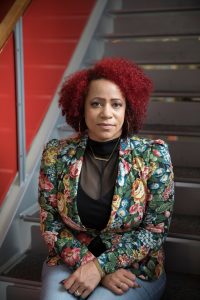 October, 2020
Virtual Zoom Lecture
Co-sponsored in association with the Humanities Center and media sponsor WAER.
Nikole Hannah-Jones covers racial injustice for The New York Times Magazine, and has spent years chronicling the way official policy has created—and maintains—racial segregation in housing and schools. Her deeply personal reports on the black experience in America offer a compelling case for greater equity. Hannah-Jones is the creator and lead writer of the New York Times' major multimedia initiative, "The 1619 Project." Named for the year the first enslaved Africans arrived in America, the project features an ongoing series of essays and art on the relationship between slavery and everything from social infrastructure and segregation, to music and sugar—all by Black American authors, activists, journalists and more. Hannah-Jones wrote the project's introductory essay, which ran under the powerful headline 'Our Democracy's Founding Ideals Were False When They Were Written. Black Americans Have Fought to Make Them True.' The essay earned her her first Pulitzer Prize for commentary. Nothing we know about American life today has been untouched by the legacy of slavery.

Her piece "Worlds Apart" in The New York Times Magazine won the National Magazine Award for "journalism that illuminates issues of national importance" as well as the Hillman Prize for Magazine Journalism. In 2016, she was awarded a Peabody Award and George Polk Award for radio reporting for her This American Life story, "The Problem We All Live With." She was named Journalist of the Year by the National Association of Black Journalists, and was also named to 2019's The Root 100 as well as Essenece's Woke 100. Her reporting has also won Deadline Club Awards, Online Journalism Awards, the Sigma Delta Chi Award for Public Service, the Fred M. Hechinger Grand Prize for Distinguished Education Reporting, and the Emerson College President's Award for Civic Leadership. In February 2020, she was profiled by ESSENCE as part of their Black History Month series, celebrating "the accomplishments made by those in the past, as well as those paving the way for the future".

Hannah-Jones co-founded the Ida B. Wells Society for Investigative Reporting with the goal of increasing the number of reporters and editors of color. She holds a Master of Arts in Mass Communication from the University of North Carolina and earned her BA in History and African-American studies from the University of Notre Dame. For the Institute for Advanced Journalism Studies, she investigated social changes under Raul Castro and the impact of universal healthcare on Cuba's educational system. She was also selected by the University of Pennsylvania to report on the impact of the Watts Riots for a study marking the 40th anniversary of the Kerner Commission report. Along with The New York Times, her reporting has been featured in ProPublica, The Atlantic Magazine, Huffington Post, Essence Magazine, The Week Magazine, Grist, Politico Magazine, and on Face the Nation, This American Life, NPR, The Tom Joyner Morning Show, MSNBC, C-SPAN, Democracy Now, and radio stations across the country.
---
Wilmer Valderrama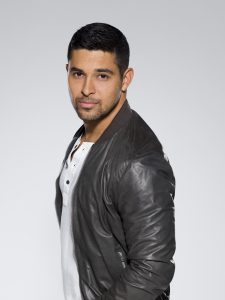 September, 2020
Virtual Zoom Lecture
Actor, producer and activist Wilmer Valderrama has been making audiences laugh, listen and think for nearly two decades. Perhaps most recognized for his role as exchange student Fez on the Emmy-nominated series That 70s Show, the role catapulted him to stardom and garnered numerous Teen Choice Awards.

Valderrama currently stars in the #1 TV drama NCIS and will voice the first Latino Prince Charming in the upcoming animated feature film Charming. Other recent television credits include appearances in Netflix's The Ranch, ABC's Grey's Anatomy and Robert Rodriguez & Quentin Tarantino's television series From Dusk Till Dawn. Valderrama also voiced the main character of Disney's hugely popular animated children's show Handy Manny, which introduced preschoolers to Spanish.

Behind the camera, Valderrama created and produced the MTV series YO MOMMA, also serving as its host. And, his production company WV Entertainment has multiple television and film projects in development.
---
Series events typically take place on campus, but – following public health guidance due to the COVID-19 pandemic – this fall's lectures will all be virtual, viewable via Zoom. And audience members will be able to submit questions for consideration as part of the experience, time permitting. Connection information will be provided closer to each event.