Martin S. Indyk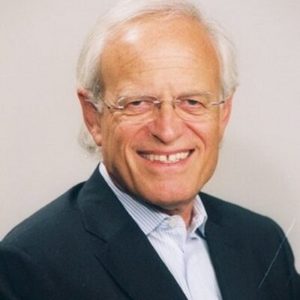 April, 2019
Hendricks Chapel
Sponsored in association with the Maxwell School and media sponsor WAER.
Martin Indyk is distinguished fellow and director of executive education at the Council on Foreign Relations. Previously, he was the John C. Whitehead Distinguished Fellow in International Diplomacy in the Foreign Policy program at the Brookings Institution. From February 2015 to March 2018, he served as executive vice president of Brookings.
Indyk was the U.S. special envoy for the Israeli-Palestinian negotiations from July 2013 to June 2014. Prior to his time as special envoy, he was vice president and director of the Foreign Policy program and a senior fellow and the founding director of the Center for Middle East Policy at Brookings.
The U.S. ambassador to Israel from 1995-97 and again from 2000-01, Indyk also served as special assistant to President Bill Clinton and senior director for Near East and South Asian affairs at the National Security Council (1993-95) and assistant secretary of state for Near Eastern affairs in the U.S. Department of State (1997-2000).
Before entering government, Indyk was founding executive director of the Washington Institute for Near East Policy for eight years.
He is author of "Innocent Abroad: An Intimate Account of American Peace Diplomacy in the Middle East" (Simon and Schuster, 2009) and co-author of "Bending History: Barack Obama's Foreign Policy" with Michael O'Hanlon and Kenneth Lieberthal (Brookings Institution Press, 2012). He is currently completing a book tentatively titled "Henry Kissinger and the Art of the Middle East Deal" to be published by A.A. Knopf in 2019.
Indyk serves on the boards of the Lowy Institute for International Policy in Australia, the Institute for National Security Studies in Israel and the Aspen Institute's Middle East Investment Initiative. Indyk also is a member of the advisory boards of the Israel Democracy Institute and America Abroad Media.
---
Lynn Conway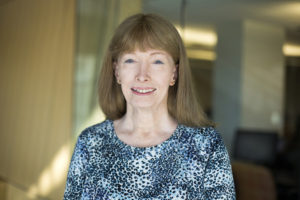 March, 2019
Hendricks Chapel
Lynn Conway, professor of electrical engineering and computer science emerita at the University of Michigan, Ann Arbor, is an internationally renowned research engineer, university educator and LGBTQ advocate.
As a young researcher at IBM in the 1960s, she made pioneering innovations in computer architecture. IBM fired her in 1968 upon learning she was undergoing gender transition. A gritty survivor, she restarted her career in "stealth-mode" after completing her transition.
While working at Xerox Palo Alto Research Center in the 1970s, Conway innovated breakthrough methods that dramatically simplified the design of silicon chips, triggering the microelectronics "VLSI revolution" in Silicon Valley and forever transforming computing and information technology.
She went on to serve as assistant director for strategic computing at the Defense Advanced Research Projects Agency, then joined the University of Michigan in 1985 as professor of electrical engineering and computer science and associate dean of engineering.
Quietly coming out after retiring in 1999, Conway evolved her trans-support website, lynnconway.com, into a multilingual beacon of encouragement and hope for transgender people worldwide. Then, in 2012, she published a memoir that finally revealed how—closeted and hidden behind the scenes—she conceived the ideas and orchestrated the events that disruptively changed an entire industry.
Conway is a fellow of the Institute of Electrical and Electronics Engineers (IEEE) and the American Association for the Advancement of Science, and was elected to the National Academy of Engineering.
Among Conway's other honors: the Secretary of Defense Meritorious Civilian Service Award, the IEEE Computer Society's Computer Pioneer Award, the James Clerk Maxwell Medal from the IEEE and Royal Society of Edinburgh, and four honorary doctorates.
---
Nina Totenberg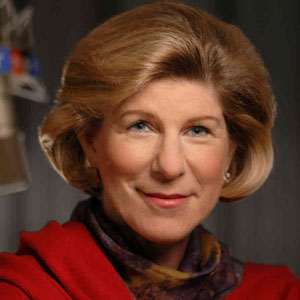 March, 2019
Hendricks Chapel
One of the country's most respected journalists, Nina Totenberg is National Public Radio's award-winning legal affairs correspondent. With more than 40 years' experience at NPR, her reports are regularly featured on "All Things Considered," "Morning Edition" and "Weekend Edition."
Totenberg's coverage of the Supreme Court and legal affairs has won her widespread recognition. As Newsweek stated: "The mainstays [of NPR] are 'Morning Edition' and 'All Things Considered.' But the crème de la crème is Nina Totenberg."
Totenberg was the first radio journalist to be honored by the National Press Foundation as Broadcaster of the Year. She has been recognized seven times by the American Bar Association for excellence in legal reporting and won the first-ever Toni House award presented by the American Judicature Society for a career body of work.
In 1988, Totenberg won the Alfred I. duPont-Columbia University Silver Baton for her coverage of Supreme Court nominations. The jurors of the award stated, "Ms. Totenberg broke the story of Judge (Douglas) Ginsburg's use of marijuana, raising issues of changing social values and credibility with careful perspective under deadline pressure."
In 1991, her groundbreaking report about University of Oklahoma law professor Anita Hill's allegations of sexual harassment by Judge Clarence Thomas led the Senate Judiciary Committee to re-open Thomas' Supreme Court confirmation hearings to consider Hill's charges. NPR received the prestigious George Foster Peabody Award for its gavel-to-gavel coverage—anchored by Totenberg—of both the original hearings and the inquiry into Hill's allegations, and for Totenberg's reports and exclusive interview with Hill.
That same coverage earned Totenberg additional awards, including the Long Island University George Polk Award for excellence in journalism; the Sigma Delta Chi Award from the Society of Professional Journalists for investigative reporting; the Carr Van Anda Award from the Scripps School of Journalism; and the prestigious Joan S. Barone Award for excellence in Washington-based national affairs/public policy reporting, which also acknowledged her coverage of Justice Thurgood Marshall's retirement.
On a lighter note, in 1988 and 1992, Esquire magazine named her one of the "Women We Love."
A frequent contributor to major newspapers and periodicals, she has published articles in The New York Times Magazine, The Harvard Law Review, The Christian Science Monitor, Parade Magazine and New York Magazine.
Before joining NPR in 1975, Totenberg served as Washington editor of New Times Magazine. Prior to that, she was the legal affairs correspondent for the National Observer.
---
Trevor Noah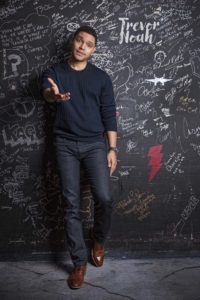 January, 2019
Carrier Dome
Sponsored in association with media sponsor WAER.
Comedian and author Trevor Noah, host of the Emmy- and Peabody Award-winning "The Daily Show" on Comedy Central, will visit Syracuse University in late January 2019 as a special guest of the Dr. Martin Luther King Jr. Celebration, in collaboration with the University Lectures series.
Syracuse University's 34th annual MLK Celebration—the largest event of its kind in the country—will take place on Sunday, Jan. 27, in the Carrier Dome. Noah will take part in an on-stage conversation, talking about his acclaimed memoir, "Born a Crime: Stories from a South African Childhood" (Random House, 2016), reflecting on the life and legacy of Dr. King, and discussing the global impact of the civil rights movement. Further details of the event will be announced later in the fall.
"Not only is Trevor Noah a popular television personality and the most successful comedian in South African history, his recent and renowned text has proven to be informative, formative and deeply transformative," says the Rev. Brian E. Konkol, dean of Hendricks Chapel and co-chair of the 2019 MLK Celebration. "By showing the connections among Soweto, Selma and Syracuse at our 2019 MLK Celebration, we will recognize the global impact of the civil rights movement and consider how we, too, may receive the freedom to flourish as citizens of the world."
"Born a Crime" is the selected book for the 2018-19 Syracuse Reads Program, a shared reading initiative coordinated by the Provost's Office that is part of the First-Year Experience for all new SU students. The initiative aims to engage students in a shared experience that explores themes of identity, belonging, diversity, inclusion, and health and wellness.
In the book, Noah, who was born in South Africa to a black South African mother and a white European father, recounts his childhood growing up during the last days of apartheid and the opportunities and adventures with his mother in the period that followed.
The University provided more than 3,900 special softcover copies and e-copies of the book to all incoming first-year and transfer students in June. The students were instructed to read "Born a Crime" over the summer. After their arrival on campus for the fall semester, the students will participate in a series of five-week discussion sessions—co-led by a student peer facilitator and a faculty, staff or graduate student lead facilitator—intended to enhance the students' understanding of the topics addressed in the book and engage them in broader contexts about identity, resiliency, inclusion and community.
Free copies of "Born a Crime" have also been made available through the SU Bookstore to current students, faculty and staff with a valid SUID, and individuals have been encouraged to host their own discussions or book club readings about the book.
"Trevor Noah's book provides a foundation for the critical topics of identity, belonging and inclusion that all college students can and should examine," says Amanda G. Nicholson, assistant provost, dean of student success and co-chair of the First-Year Experience Initiative. "To hear from him firsthand will be a truly meaningful opportunity to explore difficult themes from a global perspective and continue our shared campus conversation through the First-Year Experience around those themes."
"We are thrilled to host Trevor Noah, who will share his experiences and reflections with our students and the entire campus community as we continue to build a more welcoming, inclusive community," says Kira Kristal Reed, provost faculty fellow, associate professor in the Whitman School and co-chair of the First-Year Experience Initiative. "His appearance will enhance the First-Year Experience as we engage in a shared reading and discussions, and wellness opportunities throughout the fall, and conclude with the MLK celebration."
For the full press release regarding Trevor Noah's appearance at Syracuse University, please click here.
---
Margaret Atwood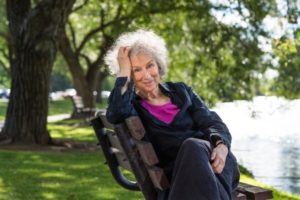 October, 2018
Hendricks Chapel
Canadian author Margaret Atwood is the definition of a literary titan, with more than 40 novels, non-fiction works, short story collections, children's books, books of poetry and one graphic novel to her credit over her more than 50-year career. Her work has been published in more than 40 languages.
Arguably her most famous book, "The Handmaid's Tale" (McClelland & Stewart, Houghton Mifflin, 1985), was transformed into a critically acclaimed television series on Hulu. The first season won eight Primetime Emmy
Awards, including Outstanding Drama Series. The recently completed second season has earned 20 Emmy nominations.
Along with the deep dystopian novel, television is treating new generations to other of Atwood's notable works. An adaption of her murder mystery "Alias Grace" (McClelland & Stewart, Bloomsbury, Doubleday, 1996) is now streaming on Netflix. Her children's book "Wandering Wenda and Widow Wallop's Wunderground Washery" (McArthur & Co., 2011) was produced as an animated children's series. MGM is producing a series from her novel "The Heart Goes Last" (McClelland & Stewart, Bloomsbury, Nan A. Talese/Doubleday, 2015). And Paramount is adapting the three books in her MaddAddam series (McClelland & Stewart, Bloomsbury, Doubleday)—"Oryx and Crake" (2003), "The Year of the Flood" (2009) and "MaddAddam" (2013)—into a television series.
In 2016, Atwood entered the world of graphic novels with "Angel Catbird" (Dark Horse), the story of a young genetic engineer who accidentally mutates into a cat-owl hybrid, which debuted at No. 1 on The New York Times Bestseller List. She has since written volumes two and three.
Her list of honors exceeds 125 recognitions, starting in the early 1960s and including the Man Booker Prize, the Arthur C. Clarke Award for Best Science Fiction, the Franz Kafka International Literary Prize, the Harvard Arts Medal, the Raymond Chandler Award, the Carl Sandburg Literary Award and a Guggenheim Fellowship. She has received 26 honorary degrees.
Atwood is a founding trustee of the Griffin Poetry Prize and a founder of the Writers' Trust of Canada, a nonprofit literary organization that seeks to encourage Canada's writing community.
She is also an inventor. In 2004, while on a paperback tour in Denver for her novel "Oryx and Crake," Atwood conceived the concept of a remote robotic writing technology, the LongPen, that would allow someone to write in ink anywhere in the world via tablet PC and the internet.
Atwood's University Lectures presentation is also part of the Syracuse University Humanities Center's Syracuse Symposium programming, which is focusing this year on the meaning and impact of "STORIES" from diverse perspectives.
---
Robert Shetterly

Lecture: November, 2018
Setnor Auditorium
Exhibition: November-December, 2018
Panasci Lounge, Schine Student Center
Not only is noted painter Robert Shetterly coming to Syracuse University, he is bringing along the full collection of his masterwork portrait series "Americans Who Tell the Truth: Models of Courageous Citizenship," which marks the first time ever all 235 pieces will be displayed publicly in one location.
The portraits and accompanying narratives highlight citizens who courageously address issues of social, environmental and economic fairness. Combining art and other media, the series "offers resources to inspire a new generation of engaged Americans who will act for the common good, our communities, and the Earth."
Among the historical and contemporary figures portrayed in the collection are Muhammad Ali, Susan B. Anthony, James Baldwin, Majora Carter, Shirley Chisholm, Dwight Eisenhower, Langston Hughes, Van Jones, Martin Luther King Jr., Naomi Klein, Ron Kovic, Oren Lyons '58, Arthur Miller, Ralph Nader, Paul Robeson, Edward Snowden, Mark Twain, Walt Whitman and Malcolm X.
The University will transport the paintings to Syracuse from Shetterly's Maine home in late fall, and the Panasci Lounge will be transformed into a gallery setting, while continuing as a student study space, to host the public exhibition Nov. 26-30. All of Shetterly's living portrait subjects have been invited to visit Syracuse University to see the display and enjoy a gallery reception and the accompanying Nov. 29 University Lectures event in which the artist will take part in an on-stage conversation with two of his subjects—Richard Bowen and Dr. Mona Hanna-Attisha.
Bowen is a former vice president at Citigroup who blew the whistle on Citibank's subprime mortgage practices that helped lead to the country's 2008 financial crisis. He appeared before the Securities and Exchange Commission—giving them more than 1,000 pages of evidence of fraudulent activities—and later gave nationally televised testimony to the Financial Crisis Inquiry Commission.
Hanna-Attisha, a pediatrician and public health advocate in Flint, Mich., sounded the alarm about the high presence of lead in the city's drinking water; her book on the Flint Water Crisis, "What the Eyes Don't See: A Story of Crisis, Resistance, and Hope in an American City" (Random House), was published this past June
Shetterly taught himself drawing, printmaking and painting after graduating from Harvard College with a degree in English literature. His work appears in collections across the United States and Europe. Along with his "Americans Who Tell the Truth" series, Shetterly is well known for his series of 70 painted etchings based on William Blake's "Proverbs of Hell" and for another series of 50 painted etchings reflecting on the metaphor of the Annunciation.
He began "Americans Who Tell the Truth" in the early 2000s. A book by the same name and featuring his first 50 portraits was published in 2008. Shetterly says the portraits have given him an opportunity to speak with children and adults throughout the United States about "the necessity of dissent in a democracy, the obligations of citizenship, sustainability, U.S. history, and how democracy cannot function if politicians don't tell the truth, if the media don't report it, and if the people don't demand it."
---
George Saunders