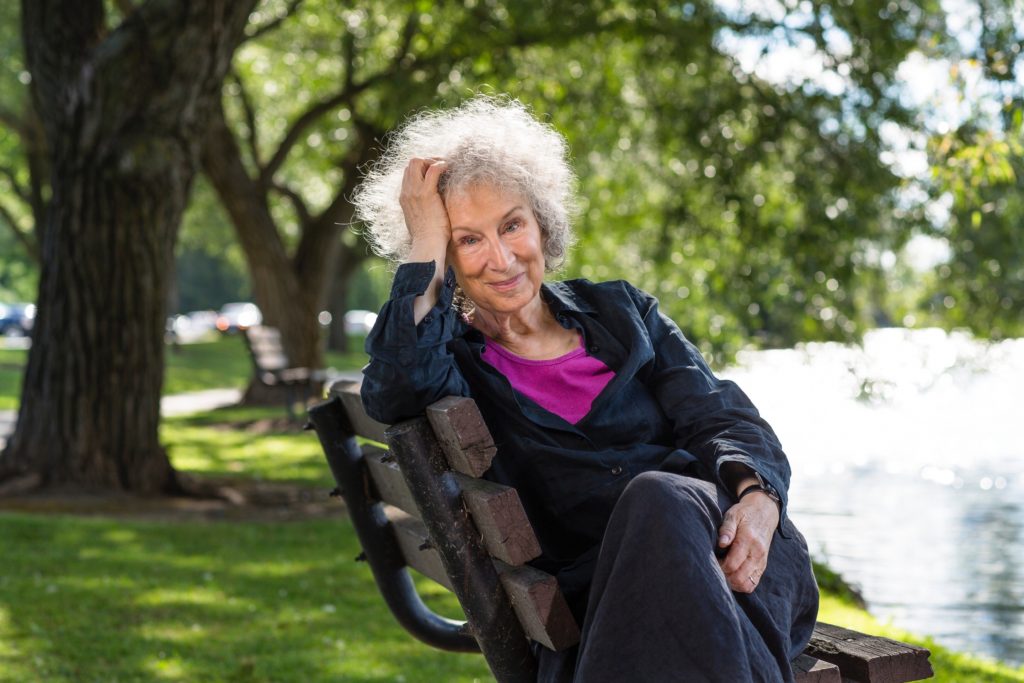 Thursday, October 25, 2018
7:30 PM, Hendricks Chapel
Canadian author Margaret Atwood is the definition of a literary titan, with more than 40 novels, non-fiction works, short story collections, children's books, books of poetry and one graphic novel to her credit over her more than 50-year career. Her work has been published in more than 40 languages.
Arguably her most famous book, "The Handmaid's Tale" (McClelland & Stewart, Houghton Mifflin, 1985), was transformed into a critically acclaimed television series on Hulu. The first season won eight Primetime Emmy Awards, including Outstanding Drama Series. The recently completed second season has earned 20 Emmy nominations.
Along with the deep dystopian novel, television is treating new generations to other of Atwood's notable works. An adaption of her murder mystery "Alias Grace" (McClelland & Stewart, Bloomsbury, Doubleday, 1996) is now streaming on Netflix. Her children's book "Wandering Wenda and Widow Wallop's Wunderground Washery" (McArthur & Co., 2011) was produced as an animated children's series. MGM is producing a series from her novel "The Heart Goes Last" (McClelland & Stewart, Bloomsbury, Nan A. Talese/Doubleday, 2015). And Paramount is adapting the three books in her MaddAddam series (McClelland & Stewart, Bloomsbury, Doubleday)—"Oryx and Crake" (2003), "The Year of the Flood" (2009) and "MaddAddam" (2013)—into a television series.
In 2016, Atwood entered the world of graphic novels with "Angel Catbird" (Dark Horse), the story of a young genetic engineer who accidentally mutates into a cat-owl hybrid, which debuted at No. 1 on The New York Times Bestseller List. She has since written volumes two and three.
Her list of honors exceeds 125 recognitions, starting in the early 1960s and including the Man Booker Prize, the Arthur C. Clarke Award for Best Science Fiction, the Franz Kafka International Literary Prize, the Harvard Arts Medal, the Raymond Chandler Award, the Carl Sandburg Literary Award and a Guggenheim Fellowship. She has received 26 honorary degrees.
Atwood is a founding trustee of the Griffin Poetry Prize and a founder of the Writers' Trust of Canada, a nonprofit literary organization that seeks to encourage Canada's writing community.
She is also an inventor. In 2004, while on a paperback tour in Denver for her novel "Oryx and Crake," Atwood conceived the concept of a remote robotic writing technology, the LongPen, that would allow someone to write in ink anywhere in the world via tablet PC and the internet.
Atwood's University Lectures presentation is also part of the Syracuse University Humanities Center's Syracuse Symposium programming, which is focusing this year on the meaning and impact of "STORIES" from diverse perspectives.
Her appearance is co-sponsored by the College of Arts and Sciences and the Humanities Center, and is part of Family Weekend 2018.
[FinalTilesGallery id='7′]