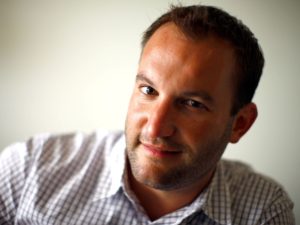 October 2017
Sponsored in cooperation with the Maxwell School of Citizenship and Public Affairs

---
Greene is host of NPR's "Morning Edition"—as well as NPR's morning news podcast, "Up First"—with Steve Inskeep and Rachel Martin. For two years prior to taking on his current role in 2012, Greene was an NPR foreign correspondent based in Moscow, covering the region from Ukraine and the Baltics east to Siberia. During that time, he brought listeners stories as wide ranging as Chernobyl 25 years later and Beatles-singing Russian babushkas. He spent a month in Libya reporting riveting stories in the most difficult of circumstances as NATO bombs fell on Tripoli; he was honored with the 2011 Daniel Schorr Journalism Prize from WBUR and Boston University for that coverage of the Arab Spring.
Greene's voice became familiar to NPR listeners from his four years covering the White House. To report on former President George W. Bush's second term, Greene spent hours in NPR's spacious booth in the basement of the West Wing (it's about the size of an average broom closet). He also spent time trekking across five continents, reporting on White House visits to Afghanistan, Iraq, Mongolia, Rwanda, Uruguay and Crawford, Texas.
Greene was an integral part of NPR's coverage of the 2008 election, covering Hillary Clinton's campaign from start to finish and focusing on how racial attitudes were playing into voters' decisions. The White House Correspondents Association took special note of Greene's report on a speech by then-candidate Barack Obama, addressing the nation's racial divide. Greene was presented with the association's 2008 Merriman Smith award for deadline coverage of the presidency.
After President Obama took office, Greene kept one eye trained on the White House and the other eye on the road. He spent three months driving across America to learn how the recession was touching Americans during Obama's first 100 days in office. The series was titled "100 Days: On the Road in Troubled Times."
Before joining NPR in 2005, Greene spent nearly seven years as a newspaper reporter for the Baltimore Sun. He covered the White House during the Bush administration's first term and wrote about an array of other topics for the paper: why Oklahomans love the sport of cockfighting, why two Amish men in Pennsylvania were caught trafficking methamphetamine and how one woman brought Christmas back to a small town in Maryland.
Greene's visit is sponsored in cooperation with the Maxwell School of Citizenship and Public Affairs.
Video Interview from David Greene's visit to Syracuse University