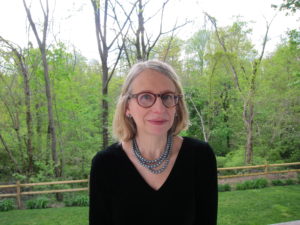 Theories of Everything, and Much, Much More
---
Roz Chast sold her first cartoon to The New Yorker in 1978 and since then she has established herself as one of our greatest artistic chroniclers of the anxieties, superstitions, furies, insecurities and surreal imaginings of modern life.
Since then nine collections have been published of Chast's work, most recently, "Theories of Everything," (Bloomsbury), a 25-year retrospective. Chast is known for her cast of recurring characters—generally hapless but relatively cheerful "everyfolk." In her cartoons, she addresses the universal topics of guilt, anxiety, aging, families, friends, money, real estate and as she would say, "much, much more!"  The editor of The New Yorker, David Remnick, has called her "the magazine's only certifiable genius." She collaborated with Steve Martin on the children's book "The Alphabet from A to Y with Bonus Letter Z!"(Random House).  Her children's book, "Too Busy Marco," (Simon & Schuster) was published in 2010; the sequel, "Marco Goes to School," was released in 2012. Her most recent book for adults is "What I Hate: From A–Z" (Bloomsbury, 2011).
She is currently working on a book that chronicles her relationship with her aging parents as they shift from independence to dependence. Using handwritten text, drawings, photographs, and her keen eye for the foibles that make us human, Chast addresses the realities of what it is to get old in America today – and what it is to have aging parents today — with tenderness and candor, and a good dose of her characteristic wit.
A native of Brooklyn, Chast received a bachelor's degree in 1977 from Rhode Island School of Design with studies in graphic design and painting, but returned to the cartooning which she had begun in high school.  Less than two years out of college, she was added to the 40 or so artists under contract to The New Yorker which has continually published her work for 33 years, from black and white cartoons to color spreads, back pages and covers. In addition she has provided cartoons and editorial illustrations for almost 50 magazines and journals from Mother Jones to Town & Country. She has illustrated several children's books and contributed to many humor collections, lectured widely and received several prestigious awards including honorary degrees from Pratt Institute and the Art Institute of Boston.
This lecture will be interpreted for the Deaf and Hearing Impaired.