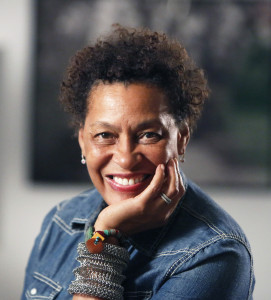 Swinging into Sixty: A Woman Ponders the Future
---
Over the past 25 years, Carrie Mae Weems has worked toward developing a complex body of art that has at various times employed photographs, text, fabric, audio, digital images, installation and video. She has investigated family relationships, gender roles, the histories of racism, sexism, class and various political systems. "Despite the variety of my explorations, throughout it all it has been my contention that my responsibility as an artist is to work, to sing for my supper, to make art, beautiful and powerful, that adds and reveals; to beautify the mess of a messy world, to heal the sick and feed the helpless; to shout bravely from the roof-tops and storm barricaded doors and voice the specifics of our historic moment," she says.
Storytelling is fundamental to Weems' work. Her works include "Family Pictures and Stories," "Ain't Jokin,'" "Colored People" and the "Kitchen Table" series. Throughout the 1990s, she explored the African diaspora through the "Sea Islands,"  "Africa," "Slave Coast" and "Landed in Africa" and "From Here I Saw What Happened and I Cried." In 1997, Weems began a trilogy of large-scale fabric installations that resulted in "Ritual & Revolution," "The Jefferson Suite" and "The Hampton Project." Other works include "The Louisiana Project" and "Coming Up for Air" (2004).
Weems has won numerous awards for her work, and her talents have been recognized by numerous colleges with fellowships, artist-in-residence and visiting professor positions. She was awarded a MacArthur Foundation Fellowship in 2013. "Carrie Mae Weems: Three Decades of Photography and Video," a 30-year retrospective of her work, opened in January 2014 at the Solomon R. Guggenheim Museum in New York City.