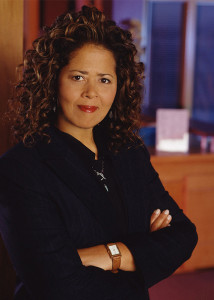 Snapshots: Portraits of a World in Transition
---
Playwright, actor and professor Anna Deavere Smith uses her singular brand of theatre to explore issues of community, character and diversity in America. Newsweek declared her "the most exciting individual in American theatre."
Smith is perhaps best known as the author and performer of one-woman, multi-character plays that deal with social issues in America. The prestigious MacArthur Foundation awarded Smith the "Genius" Fellowship for creating "a new form of theatre — a blend of theatrical art, social commentary, journalism and intimate reverie." In 2012, Smith won the Dorothy and Lillian Gish Prize, one of the largest and most prestigious awards in the arts, which recognizes trailblazers who have redefined their art and pushed the boundaries of excellence in their field.
Her play, "Fires in the Mirror," about the 1991 Crown Heights riot, was a runner-up for the Pulitzer Prize and took home Obie and Drama Desk Awards. Her work "Twilight: Los Angeles 1992" won Drama Desk, Theater World and Obie Awards and received two Tony Award nominations.
Smith's most recent play, "Let Me Down Easy," explores the resilience and vulnerability of the human body. It opened off-Broadway in 2009 and was broadcast on PBS' "Great Performances" in 2012. Interviewing subjects from all walks of life, Smith recreates their words in her performances, transforming herself into an astonishing number of characters.
In 1997, Smith founded the Institute on the Arts and Civic Dialogue at Harvard University, which is now known as Anna Deavere Smith Works. ADS Works unites artists and performers and "cultivates artistic excellence that embraces the social issues of the day." Her latest book is "Letters to a Young Artist: Straight-up Advice on Making a Life in the Arts" (Knopf Doubleday, 2006)
A tenured professor at NYU's Tisch School of the Arts teaching performance studies, Smith is also affiliated with the NYU School of Law. She won a 2006 Fletcher Foundation Fellowship in recognition of her contribution to advancing civil rights. Her professional accolades also include a Matrix Award from the New York Women in Communications, a Fellow Award in Theatre Arts for the United States Artists, and the United Solo Theatre Festival's inaugural uAward for outstanding solo performance.
Smith appears as Gloria Akalitus on the Showtime series "Nurse Jackie." Her television credits also include "The West Wing" and "All My Children." She has appeared in films including "Rachel Getting Married," "Philadelphia" and "The American President."
Currently the artist-in-residence at the Center for American Progress, Smith is researching and writing a new play called "The Americans."
This lecture will be interpreted for the Deaf and Hearing Impaired.