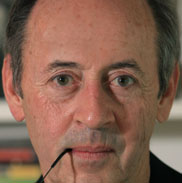 Aimless Love: New and Selected Poetry with Billy Collins
---
Billy Collins is an American phenomenon.  No poet since Robert Frost has managed to combine high critical acclaim with such broad popular appeal. His work has appeared in a variety of periodicals including The New Yorker, The Paris Review and The American Scholar, and he is a Guggenheim fellow and a New York Public Library "Literary Lion."
The typical Collins poem opens on a clear and hospitable note but soon takes an unexpected turn; poems that begin in irony may end in a moment of lyric surprise. Collins sees his poetry as "a form of travel writing" and considers humor "a door into the serious."
Collins has published nine collections of poetry, including "Questions About Angels, The Art of Drowning," "Picnic," "Lightning," "Taking Off Emily Dickinson's Clothes," "Sailing Alone Around the Room: New & Selected Poems," "Nine Horses," "The Trouble With Poetry and Other Poems," "Ballistics" and most "Horoscopes for the Dead." A collection of his haiku, titled "She Was Just Seventeen," was published by Modern Haiku Press in fall 2006. He also edited two anthologies of contemporary poetry: "Poetry 180: A Turning Back to Poetry" and "180 More: Extraordinary Poems for Everyday," was the guest editor of The Best American Poetry 2006, and edited "Bright Wings: An Illustrated Anthology of Poems about Birds," with paintings by David Allen Sibley.  His next book, "Aimless Love: New and Selected Poems 2003 – 2013," was released in March.
Included among the honors Collins has received are fellowships from the New York Foundation for the Arts, the National Endowment for the Arts, and the Guggenheim Foundation. He has also been awarded the Oscar Blumenthal Prize, the Bess Hokin Prize, the Frederick Bock Prize, and the Levinson Prize — all awarded by Poetry magazine. In October 2004, Collins was selected as the inaugural recipient of the Poetry Foundation's Mark Twain Award for Humor in Poetry.
In June 2001, Collins was appointed United States Poet Laureate 2001-03.  In January 2004, he was named New York State Poet Laureate 2004-06. He is a Distinguished Professor of English at Lehman College of the City University of New York, as well as a Senior Distinguished Fellow of the Winter Park Institute at Rollins College.
This lecture will be interpreted for the Deaf and Hearing Impaired.