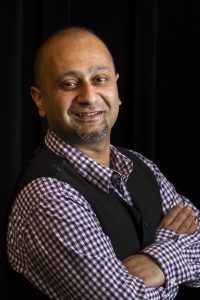 Thursday, March 26, 2020
7:30 PM, The Joyce Hergenhan Auditorium, Newhouse 3
What is the Greatest Story Ever Told?
An energizing and personal presentation that celebrates the power of storytelling, the things that matter to us as humans, and how we can – and should – be part of the movement.
KIRAN SINGH SIRAH is President of the International Storytelling Center (ISC), an educational and cultural institution dedicated to enriching lives around the world through storytelling. ISC organizes the world's premiere storytelling event, the National Storytelling Festival, and supports applied storytelling initiatives across a variety of industries. Prior to his ISC appointment, Kiran developed a number of award-winning arts and peace-building programs in cultural centers across the UK. As an artist, folklorist, teacher, and social justice advocate, he uses the power of human creativity to establish dialogue. An advisory member to UNESCO and a Rotary Peace fellow, he has developed programs, publications, talks and conference papers on interdisciplinary approaches to relationship building around the globe. In 2017, Sirah was awarded the "Champion of Peace" recognition during Rotary UN Day at the United Nations in Geneva, Switzerland, in recognition for his work to advance the arts of storytelling, within the arenas of global peace and development. Kiran firmly believes Storytelling not only enriches lives, but also holds the key to building a better world.