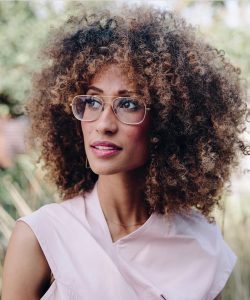 Friday, March 27, 2020
7:30 p.m., Hendricks Chapel
University Lectures welcomes New York Times bestselling author, award-winning journalist and former editor-in-chief of Teen Vogue Elaine Welteroth
Elaine Welteroth will take part in an on-stage conversation with alumna Kori Hale G'13, CEO and co-founder of CultureBanx, at 6 p.m. in Hendricks Chapel. Communication Access Realtime Translation (CART) and American Sign Language (ASL) interpretation will be provided.
The event—titled "Claiming Space: A Conversation About Empowerment, Entrepreneurship, and Making Your Own Way"—is co-sponsored by the Whitman School and the Newhouse School, and is part of Forever Orange Week, marking the University's 150th anniversary.
A book signing featuring Welteroth's best-selling book, "More Than Enough: Claiming Space for Who You Are (No Matter What They Say)," will be held in the chapel's narthex following the discussion.
Elaine Welteroth
Throughout her meteoric 10-year magazine career, Welteroth broke new ground as the youngest person and only the second African American in Condé Nast's 107-year history to hold the title of editor-in-chief. In this role, she brought social consciousness to the pages of Teen Vogue and transformed the teen title into a credible news source.
Previously, Welteroth held senior roles at Glamour and Ebony. In 2012, she became Conde Nast's first-ever African American beauty director. She's now a leading expert, advocate and voice for the next generation of change makers, bringing her fresh perspective to scripted and unscripted projects in TV and film.
From writing on hit shows like "Grown-ish" to appearing on-air from ABC News to Netflix, "The View," "Project Runway" and "E!," Welteroth continues blazing a career path that breaks the mold, inspiring a new generation of creative entrepreneurs.
Kori Hale
Hale is CEO and co-founder of CultureBanx, a digital news platform redefining business and tech news for minorities through music. Her online platform delivers high-quality content focused on market-driven stories, innovative products and services that culture leads the way in transforming. She is also a leading contributor to Forbes, covering the intersection of business and culture.
Prior to starting CultureBanx, Hale was part of the launch team for digital media millennial news company Cheddar. Previously, she was a producer for CNBC's top-rated shows "Squawk on the Street" and "Squawk Alley." Before joining CNBC, Hale was an international producer for Bloomberg TV and a financial correspondent for TheStreet.com.
She holds the distinction of being the first black woman to anchor a daily news show from the floor of the New York Stock Exchange. She graduated from the Newhouse School with a master's degree in broadcast and digital journalism.